App for your Android Wear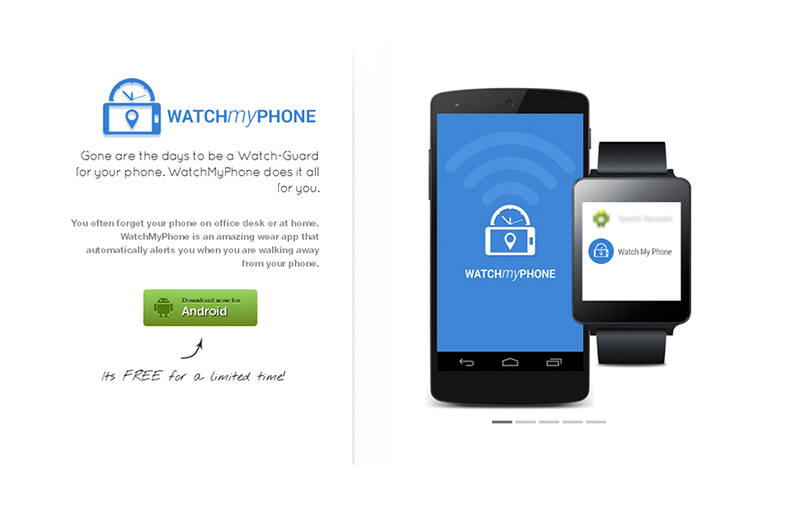 Gone are the days to be a watch-guard for your phone. Watch My Phone our first mobile app for Android wear does it all for you. You often forget your phone on office desk or at home. Ours is an amazing wear app that automatically alerts you when you are walking away from your phone.
Features
Our Priority – WatchMyPhone is basically developed with an idea to keep your phone within your reach so that you will never lose, forget or misplace your phone.
Instant Alert – This is the most important functionality that alerts you as you move away from your phone. You will get a vibrating alert on your watch instantly, as you walk out of the mobile's "Bluetooth" range.
Ring Your Phone – Now you can manually ring your phone directly from your watch. It will help to find your phone, when your phone is out of sight but in Bluetooth range.
Last Known Address – WatchMyPhone will show the last known address of your phone on your watch, the moment it gets disconnected. You can view the last known address again whenever needed.
OK Google – To start WatchMyPhone on your watch, just say "Ok Google… start watch my phone". No need to spend time on scrolling the tedious app list in watch.
We have received some amazing reviews for this app.
To download the app please visit https://play.google.com/store/apps/details?id=com.iprogrammer.watchmyphone
To learn more about this app please visit http://www.watchmyphone.co/
We await your valuable feedback!